Mad News #22 📰 Solana Superteams Take Over The World
This special edition of the Mad News introduces our new alternate language channels, celebrates releasing the Backpack Exchange , takes a look back at Mad Breakpoint 2023 and explores Superteams.
Welcome back to the Mad News! 🗞️
Alternate language Mad News channels

X stands for the Backpack Exchange

Backpack iOS app accidently discovered by community

Mad Breakpoint comes to a close

Samwise85 is our LOTW!

SuperteamDAO origin story

Regional Superteams exploration

…and much more!
View the full Table of Contents here.
Subscribe now and be the first to receive newsletters, exclusive interviews and other other behind the scenes looks.
---
Mad News is now available in Vietnamese, Chinese and Turkish!
It is the Mad News mission to report on all significant stories in the Mad Lads, Backpack and greater Solana ecosystem.
In cooperation with the SuperteamDAO and regional Mad Lads organizations we are launching our first alternate language channels.
Mad Lads Vietnam, Solana China and Superteam Turkey have been instrumental in the launch, a special thanks goes out to those teams.
We will continue to expand the language options over time and aim to make the Mad News a global publication that reaches interested readers in all corners of the world.
See the new channels here, here and here!
---
X stands for the Backpack Exchange
The Block broke news this week that X stands for eXchange.
Web3 digital wallet company Backpack has announced it is launching a cryptocurrency exchange after securing a key license from the Dubai Virtual Assets Regulatory Authority, or VARA.

Backpack, which was started by the crypto infrastructure company Coral, said in a statement that its new exchange will be regulated after being issued a Virtual Asset Service Provider, or VASP, by VARA.

-The Block, Backpack launching cryptocurrency exchange with Dubai license
VARA, the Virtual Assets Regulatory Authority, is responsible for regulating and overseeing the use and exchange of virtual assets in Dubai.
The Backpack Exchange incorporates zero knowledge proof of reserves and Multi-Party Computation custody and low latency orders.
On one side, we have the exchange. Regulated. Compliant. Unlocking all the convenience and opportunities provided by a modern financial institution.

On the other side, we have the wallet. Fully client side. Completely private. Zero wallet tracking.
Beta access signups are live and more than 50,000 emails have been registered so far.
Watch Armani's full length Breakpoint 2023 keynote speech about Backpack, Mad Lads and the Exchange here.
---
Backpack's iOS App news broke by community member
Mad Lad Sirenia discovered the Backpack iOS App before the *official* announcement which prompted the Backpack team to drop an unplanned reveal.
All is not as it seems however!
I talked with Peter Piekarczyck, the 100x developer heading up Backpack's mobile development, about the release and he told me that the Backpack app has been live in Apple's iOS store since March of 2023.
The app is exclusively available to iOS users but the team is actively working on deploying in the Android Play Store.
Download Backpack from the Apple iOS App Store here.
---
Mad Breakpoint comes to a close after a week in Amsterdam
The Mad Lads booth was mobbed by holders and the curious all week long at Breakpoint.
Lad, what if I told you we have 300kgs of merch at Breakpoint?
There was hardly a moment where the team wasn't fielding well wishers and those curious about the Backpack Exchange.
More than 500 pieces of swag were distributed to holders within the first few hours of setting up shop.
30+ players showed out to compete in the Big Brain Superleague Football Tournament in which the Lads ended up coming in 3rd place.
Vibes were high and the matches with Claynosaurz and Solana Uni made one of the most exciting adventures of the week.
Lads were also able to meet and greet away from the Breakpoint venue with hundreds of active Solana ecosystem members during the Wormhole x Mad Lads boat mixer.
---
LAD OF THE WEEK: Samwise85
Samwise85 is our LAD OF THE WEEK!
This Amsterlads Art Contest winner and quintessential Mad Lads holder created some of the most sought after merch at Breakpoint.
The FOCK IT playing cards vanished into pockets as people flocked to the Mad Lads booth for a chance at securing their pack.
They originated as concept art back in May 2023 and later Samwise brought the cards to life.
Each face card in the deck features Mad Lads artwork pulled directly from the collection.
Make sure to give Samwise85 a follow on Twitter!
---
SuperteamDAO's origin story
The Superteam story begins long before Solana enters the chat.
Akshay BD and Tanmay Bhat had a crypto focused podcast called Super Pumped that interviewed Indian and investors from around the world.
Akshay BD aligned with Solana and the duo decided to empower their listening audience to form an actual community.
Enter: Kash Dhanda, Neil Shroff and Devaiah Bopanna.
They came together to launch the SuperteamDAO in September of 2021 starting with the first regional community, Superteam India.
Their 'why' is simple, they wanted to support the emerging crypto market in their home country with the core belief that an effective bounty and grants program can make meaningful changes in people's lives.
Superteam India served as a reliable testing ground for the community builders theory and nine more Superteams have appeared all around the world.
Superteams are formed by the community, for the community.
---
Find freelance gigs and contract roles with Superteam Earn
Superteam Earn is a platform where more than 3,000 verified users "explore bounties, projects and grant opportunities for developers and non-technical talent alike".
I would love to see other ecosystem teams use this as well.

It's entirely free to use, talent from around the world creates profiles.

They get notifications when new bounties are created, you can see all the past submissions and build up your proof of work.

It's all open source and it's fully free to use for both talent and sponsors.

-Kash Dhanda
See the live bounties and grants here.
---
Superteam Build platform racked up 15k+ sessions during Hyperdrive Hackathon
Superteam Build is an idea bank filled with hundreds of ideas about what is possible to build on Solana.
It is also a source for Solana hackathon resources like:
Advice (5 no-BS tactics to win the next Solana hackathon)

Teammate Finder Directory

Past Hackathon Winners (winning presentations and demos)

Developer Tools (50+ dev tools)

Pitch Deck Templates

Events Calendar

Solana VCs
---
Superteam Instagrants program are micro grants from $1 to $10,000
Superteam Instagrants are used for a variety of purposes.
We have crypto writers grant, public goods funding, developer tooling grants and so on - would love to see more people take advantage and apply to our grant programs.

-Kash Dhanda
These are equity free grants that support builders across the Solana ecosystem, typically for contributors and members.
---
Solana places pizza on the menu for Superteams
Superteam Pizza Fund is a mechanism that supports IRL meetups with regional Superteams.
The goal of the fund is to "galvanize the community with in-person events" and it has helped organize dozens of events across the globe.
Pizza parties are just the tip of the iceberg when it comes to Superteam grants.
---
SuperteamDAO has their eyes set on becoming a network state
I asked Kash Dhanda about the bigger vision for SuperteamDAO.
Kash: I mean, I think in the long term we'd love to become a proper network state in the kind of Balaji'n version of it.
We're still pretty far away from that, but we now have an international community aligned by a common ideology and common passion around building in crypto and becoming self sovereign through earning.
Kash: I think we really want to figure out ways to open it up for more people to start and create Superteams.
We need better mechanisms for identifying talent. Right now we have nine Superteams with full time bilingual teams across the world.
Kash: I'd love to see that become 90 and then soon 180 and have every country have a Superteam in it that can collect all of the top talent in that local ecosystem and push them on chain.
---
Superteam India
Superteam India was the first regional community to form and has a consistent track record of supporting cool things.
2000 registrants and 80+ Hyperdrive Hackathon projects came from Superteam India alone.
They played a major role during the Solana Hacker Houses and helped support the most hyped events in the entire tour.
More information on Superteam India.
---
Superteam Vietnam
Superteam Vietnam has an extremely active team and covers a large variety of topics on their social channels (they're on Facebook too).
The team raised $34,000 for a Superteam VC Demo during Hyperdrive Vietnam Day.
You may have seen their translations of the Mad News on Twitter/𝕏 or the recent FPT Polytechnic announcement.
FPT Polytechnic University and Superteam Vietnam have partnered to integrate Solana blockchain technology into an internship program for computer science students.

The program aims to provide hands-on experience in blockchain development and equip students with critical blockchain programming skills.
More than 150 students have enrolled in the program thus far, the next step is to expand the program to all 11 FPT Poly campuses.
They hosted an IRL meetup in Hanoi this weekend where they discussed what the future of the Backpack Exchange looks like.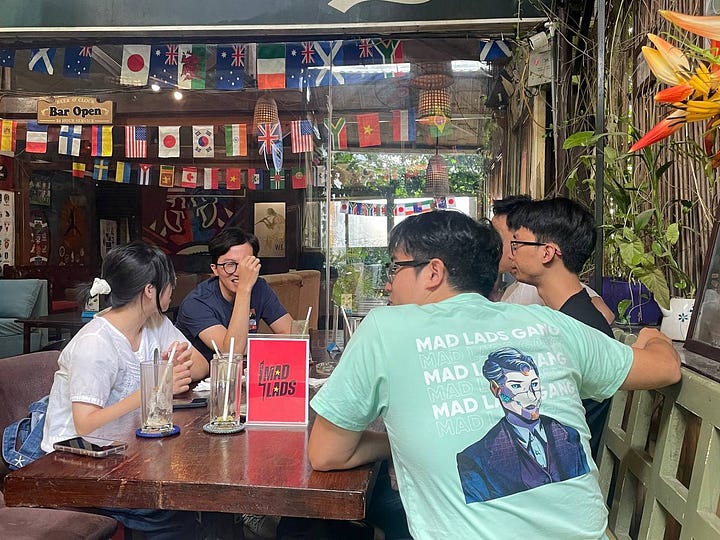 More information on Superteam Vietnam.
---
Superteam Turkey
Superteam Turkey boasts more than 70 members and has hosted thousands of visitors during their IRL events.
Fun fact: there have been more Hyperdrive projects submitted from Turkey than a vast majority of other countries.
Superteam Turkey community reached a total of $94.600 GDP through bounties and grants so far!

Driving this number is a community of 72 members, 18 contributors, and more than 1700+ lurkers on Discord.
More information on Superteam Turkey.
---
Superteam Germany
Superteam Germany has been covered in numerous Mad News issues. They're one of the most active groups and routinely host IRL events.
Most recently they opened Buildstation Berlin, a hacker house dedicated to the Hyperdrive Hackathon.
More information on Superteam Germany.
---
Superteam UK
Superteam UK formed just five months ago but they have already made waves in the ecosystem.
Their IRL London Buildstation produced 40+ projects for the Hyperdrive Hackathon with many of those projects reaching the winners podium - the grand champion prize winner Fluxbeam came out of Superteam UK.
More information on Superteam UK.
---
Superteam Mexico
Superteam Mexico made major headlines earlier this year when they partnered with Xolos, a professional football team in Mexico's top-tier Club Tijuana system.
More information on Superteam Mexico.
---
Superteam Nigeria
Superteam Nigeria is another extremely active group that meets up IRL to work on Solana projects. One of their members, Nzube Ezudo, won the Physical Infrastructure Networks (PIN) track in the Hyperdrive Hackathon.
More information on Superteam Nigeria.
---
Superteam UAE
Superteam UAE is one of the newest squads to form but they wasted little time getting to work.
The team has already planned their first Founder's Trek this November and setup at the Expand North Star startup event in October.
More information on Superteam UAE.
---
Superteam Thailand
Superteam Thailand IS the newest to join the roster.
Their first pop-up event was focused on building for the Hyperdrive Hackathon and four teams submitted projects.
More information on Superteam Thailand.
---
Follow us on all platforms!
---
Table of Contents
Mad Lads/Backpack
Mad News is now available in Vietnamese, Chinese and Turkish!

X stands for the Backpack Exchange

Backpack's iOS App news broke by community member

Mad Breakpoint comes to a close after a week in Amsterdam

LOTW: Samwise85
Solana
SuperteamDAO's origin story

Find freelance gigs and contract roles with Superteam Earn

Superteam Build developer resource platform

Superteam Instagrants microgrants program

Solana places pizza on the menu for Superteams

SuperteamDAO has their eyes set on becoming a network state

Superteam India

Superteam Vietnam

Superteam Turkey

Superteam Germany

Superteam UK

Superteam Mexico

Superteam Nigeria

Superteam UAE

Superteam Thailand