Mad News #20 📰 Lads Go Fast
Celebrating the Lad's six month mint anniversary, a detailed breakdown of Breakpoint events, Mad Lads artwork featured on F1 race cars, Solana partners with Dubai and Hyperdrive Hackathon closes.
In this week's Mad News 🗞️
The Mad Lads six month mint anniversary

What you need to know about Mad Breakpoint

Mad Lads go fast in F1 race 🏎️

Messari's quarterly 'State of Solana' report

Dubai and Solana form strategic partnership 🤝

Hyperdrive Hackathon is a massive success

…and much more!
View the full Table of Contents here.
Subscribe now and be the first to receive newsletters, exclusive interviews and other other behind the scenes looks.
---
Mad Lads celebrate six months of life
It has been six months since the Mad Lads mint, let's get up to speed on how the collection has performed.
Take a step back in time and relive the experience of minting Mad Lads in an exclusive Mad News deep dive.
---
Breakpoint is a busy week and November 1st is packed with Mad Lads events
1-3PM
| Mad Lads FC competes in the Big Brain Super League football tournament
12 - 4PM
| Wormhole x Backpack Boat Mixer
Wormhole is sponsoring a meet and greet in the afternoon. Transportation will be available at the Breakpoint dock.
Fock it, open bar. There will also be coffee and non-alcoholic beverages.
8:30PM - 1AM | Mad Lads Holders Party
The holders party is guaranteed to be one of the most notable events at Breakpoint.
More than 300 holders (and their +1) are attending.
You can learn more about the event here.
---
Attis shines in Kraken's #RearWingTakeover
Hundreds of projects entered the #RearWingTakeover for a chance to have their artwork featured on the rear wing of an F1 car during the Austin, Texas race.
The Mad Lads dominated the chase for a spot on the rear wing of a Formula 1 racecar in a competition sponsored by

Kraken NFT

and

Williams Racing

.
The rear wing location is one of the most expensive pieces of real estate where an NFT has appeared, tens of millions of fans will be introduced to Mad Lads this weekend.
Kraken NFT and Williams Racing hosted an IRL fan experience centered around F1 and digital collectables. The venue featured two full size F1 cars with Mad Lads prominently displayed on the rear wing.
Learn how you can watch the Sunday race here.
---
Tristan Yver speaks on the NFTScan Partner Talk
Blockchain infra provider NFTScan hosted a massive Solana focused Space with representatives from the Solana Foundation, DRiP and Backpack.
---
The Roster has been anything but silent
Jakey hits us with Episode 2 in the MAD SILENT LIBRARY series.
Don't watch if you have a weak stomach 😉
---
PUT ME IN COACH!
Mad Lads holder and cypher protocol dev extraordinaire cobra submitted his resume to be the first community derived Roster member.
another day and I'm still not on the focking Mad Lads athlete roster
---
LAD OF THE WEEK: Mad Coach
Many of our LOTW's are creators that produce stories, IRL artwork, bespoke digital graphics and even xNFTs.
This week's LOTW, Mad Coach is a different kind of creator… he creates VIBES!
This filmmaker, hypnotherapist and overall fan of life has been building up the confidence of Mad Lads holders with consistent positive affirmations.
It's not risky to make strong choices. What is risky is to stand still.

I don't buy a product, I buy why they make it.

I'm not investing in a wallet, but why they created it.
He is quick to encourage fellow holders and constantly represents the Mad Lads brand with integrity.
Never make fun of those who sell.

They are their stories, and they are the ones who give us the opportunities.
---
Mad Lads NFTs saw more than $340,000 in sales last week
Lassie sales have been consistent since the Mad Lads mint in April.
They are one of the most sought after pieces in the collection and have mass appeal outside of the Solana NFT world.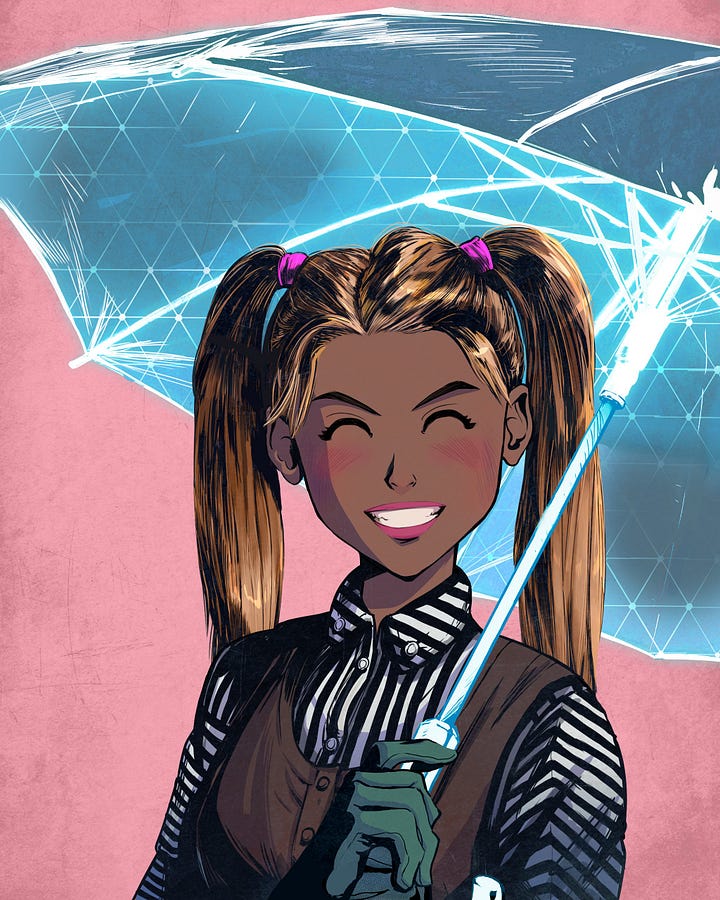 Lassies are not the only traits seeing demand. Galaxy traits are popular and command a floor price of well over 100 SOL.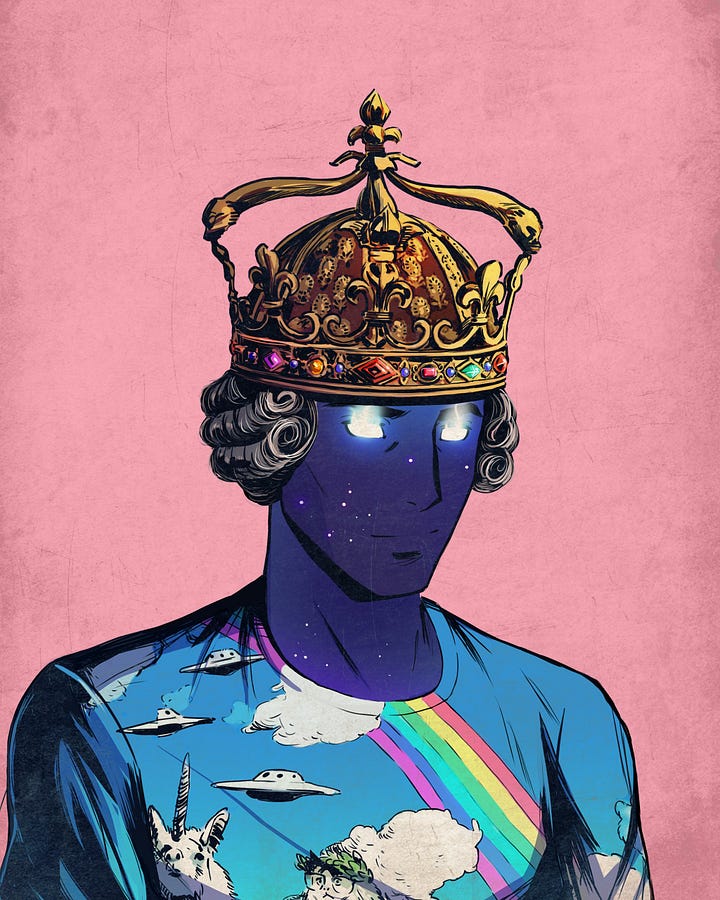 ---
Armani's OG project remains backbone of Solana
Before Backpack and Mad Lads ever existed Armani gained attention in Solana developer circles for his work on Anchor.
Anchor is a framework for quickly building secure Solana programs.

You can build secure programs more easily because Anchor handles certain security checks for you. On top of that, it allows you to succinctly define additional checks and keep them separate from your business logic.

Both of these aspects mean that instead of working on the tedious parts of raw Solana programs, you can spend more time working on what matters most, your product.
Development work has continued and Anchor released a major update with dozens of improvements.
---
The road to Solana Breakpoint 2023
Mad News interviews are coming out hot and heavy lately, this interview with Matty Taylor gives us the alpha on how to have the best experience at Breakpoint.
---
Solana Foundation releases Code of Conduct for IRL events
Solana renews their commitment to safety and inclusion with a newly minted code of conduct.
Today [the] Solana Foundation released a Code of Conduct for Breakpoint, to ensure that everyone can safely enjoy & participate in Solana ecosystem events. By attending, you agree to abide by this Code of Conduct.

-Solana
Read the full code of conduct here.
---
Low cost Breakpoint tickets are back on the menu
The Solana Foundation has made it very easy for students, developers and artists to find a path to Breakpoint via subsidized tickets.
Full price tickets cost more than $1000.
---
Founder's School is a new addition to Breakpoint programming
The last day of Breakpoint is bookended by Founder's School.
Rise N' Grind is a 3 hour "founder school" for interested founders at Breakpoint to get a condensed overview of key topics in founder life, from experts and others who have been through it before.
Topics covered include:
fundraising

marketing for web3

getting through the grind

user-centric design
---
Side events are in no short supply
Side events have earned a reputation for being *the* place to connect with Solana community members.
There are 50+ side events officially registered and (probably) more that we don't know about yet. Let's take a look at some of the most hyped events on the schedule.
---
Network State Conference
Balaji is hosting The Network State Conference the day before Breakpoint begins. It features a star studded roster of speakers including:
Anatoly Yakovenko

Vitalik Buterin

Cameron and Tyler Winklevoss

Tyler Cowen

Glen Greenwald
---
DRiP Haus Fan Fest
The DRiP Haus is sponsoring an "all-day fanfest" on November 2nd.
More than five hundred people have RSVP'd for the event which can only support two hundred attendees.
RSVP for a chance at entry here.
---
Bonk! comes out swinging with BONKINEKO BOXING
#TouchGlovesSolana it's time to fight!
Got beef with a degen on X? Pent up bear market aggression?

Get ringside this month at

#SolanaBreakpoint

for a chance for Solana builders to show that they are not just brains, but the full package.
The team is sponsoring a *safe* boxing experience with blow-up gloves and a bouncy ring, they will be onsite Tuesday and Wednesday.
---
Claynosaurz plans to takeover Breakpoint
The Claynosaurz team gained notoriety for their live events in 2022 and early 2023, they have big shoes to fill in Amsterdam and we can look forward to a big week.
More details about their schedule will be released soon.
---
Treasure hunting in Amsterdam
Stoned Ape Crew organized a treasure hunt in collaboration with the Solana Foundation. They haven't released much information but pledged to drop the details next week.
---
Why are you building on Solana?
The OPOS campaign releases another interview where Chris Osborn, founder of Dialect, tells us why building their platform is #OnlyPossibleOnSolana.
Dialect is on a mission to disrupt electronic messaging by adding layers of functionality and entertainment to the traditional chat experience.
Chris appeared on an episode of the Solana Podcast and gave a thorough rundown of what Dialect aims to achieve.
---
Messari releases their quarterly State of Solana report
Solana tech is continuing to gain mindshare, with market cap growing 17% QoQ and revenue for SOL up 10% QoQ.
Peter Horton, a research analytics wizard, is one of the driving forces behind the quarterly reports that cover Solana, SKALE, WAX and more.
---
Dubai 🤝 Solana
The Solana Foundation partnered with the DMCC Crypto Centre last week.
Through this collaboration, the Solana Foundation will offer technical and business development support to DMCC Crypto Centre members, and extend the Foundation's existing grant program to DMCC companies.
The DMCC is a "free zone" and trading hub for commodities in Dubai.
As part of this collaboration, Solana will set up a presence at the DMCC Crypto Centre to integrate with the ecosystem and collaborate with its thriving network of technology partners, exchanges, government entities, investors, incubators and accelerators, and service providers
Learn more about the collaboration here.
---
Solana doubles down on frictionless payments
Solana has an entire section of their website that showcases how payment processes are improved when using the blockchain.
Build new, permissionless payment rails with instant settlement and near-zero gas fees. Solana's throughput and low fees make it a perfect fit for merchants to accept stablecoin payments at scale.
It has all the resources needed to determine if payment rails on Solana are the right fit for your business.
---
Encode Club back at it with another cohort
Encode has empowered hundreds of developers to learn about Solana and given them a base of knowledge to start building with.
The latest cohort of

our popular Solana Bootcamp

will provide comprehensive, hands-on training for developers looking [to] start building on Solana. Led by experienced educators, participants will gain a deep understanding of the Solana ecosystem and dedicate themselves to building in Rust on Solana.
The schedule consists of:
Introduction to Solana / Rust

Rust / Development tools / Solana Token Program

Anchor Framework / DeFi / Security

Solana Program Library / NFTs

Workshop Week

Project Week
Bootcamp begins on November 20th, register here to attend.
---
Superteams close out Hyperdrive strong
Superteam India set up shop in Dharamshala for twelve individual teams of builders who each shipped a Hyperdrive project.
The Superteam UK Buildstation generated more than FORTY new projects during Hyperdrive.
Superteam Germany is no stranger to IRL events and their Buildstation Berlin workspace launched dozens of new Solana products.
You can see a full list of projects that were submitted here.
---
Podcast Corner!
---
Logan Jastremski Podcast
Logan dropped two episodes this week starting with his interview of Kyle Samani of Multicoin Capital. They talk DePIN, mainstream adoption, Overton windows and first principles thinking.
He also sat down with Ben Fielding and Harry Grieve, the founders of Gensyn.
Their conversation revolved around the Gensyn network, a Machine Learning Compute Protocol that is on a mission to make the world's largest global supercluster.
---
Lightspeed Podcast
Garret and Mert chat with Fisk and Matti from Zee Prime Capital.
In this episode, we cover the Fappening Thesis (superapp), why everyone invests in middleware, how protocols establish moats, the future of Web3 social, how crypto will impact equality and more!
The duo also recorded a family episode where "Mert and Garrett discuss the top stories of the week and trends they are seeing in crypto".
---
The Index Podcast
Mert has been on a podcast tear lately and he popped up to talk about open source building on Solana on The Index Podcast.
---
Follow us on all platforms!
---
Table of Contents
Mad Lads/Backpack
Mad Lads celebrate six months of life

Breakpoint is packed with Mad Events

Attis shines in Kraken's #RearWingTakeover

Tristan Yver speaks on the NFTScan Partner Talk

The Roster has been anything but silent

PUT ME IN COACH!

LAD OF THE WEEK: Mad Coach

Mad Lads NFTs saw more than $340,000 in sales last week

The Matty Tay Interview
Solana
Armani's OG project remains backbone of Solana

Solana Foundation releases Code of Conduct for IRL events

Low cost Breakpoint tickets are back on the menu

Founder's School is a new addition to Breakpoint programming

Side events are in no short supply

Why are you building on Solana?

Messari releases their quarterly State of Solana report

Dubai 🤝 Solana

Solana doubles down on frictionless payments

Encode Club back at it with another cohort

Superteams close out Hyperdrive Hackathon strong

Podcast Corner!