Mad News #18 🎒 Seriously, WTF is X?
Mad Lads troll the internet (again), Backpack flips ETH maxis to SOL users, sales volume surges, Mad Memes museum holds community history and Solana v1.16 validator update is lightning fast 🗞️
In this week's Mad News 🗞️
Season 2 artwork teaser

Mad Lads floor price lifts nearly 30%

LAD OF THE WEEK: Mad Luka

Solana validators adopt V1.16

Liquidity flows into Solana for 27th week

Superteams world domination

…and much more!
View the full Table of Contents here.
Subscribe now and be the first to receive newsletters, exclusive interviews and other other behind the scenes looks.
---
Important dates 🗓️
October 15 - Hyperdrive Hackathon ends
October 31 - Breakpoint begins
November 1st - Super League football tournament (Mad Lads FC)
November 1st - Mad Lads holders party
*Sign up for the Mad Lads FC in Discord
---
Rick's Rolls are back on the menu
Mad Lads troll the internet again as anticipation of October announcements reaches new highs.
Rick Astley made his second appearance in a scene reminiscent of the trojan horse "Say Cheese" snapshot. Fans were encouraged to visit a new section of the Mad Lads website and met with another troll.
🎻 Ilene Woods - So This Is Love (from the original animated Cinderella movie)
---
Backpack turns ETH maxis into SOL users
One of Backpack's goals is to "build a sensible wallet that works for everyone."
That started with integration of EVM token support earlier this year and it has helped onboard many new users from Ethereum.
The team supports expansion to more blockchains as well.
We plan to add more chains in the future. Whether it's other SVM chains. Cosmos. Bitcoin. Avalanche. Aptos. Sui. Or whatever. We've put in a lot of work into making this easy, and so we would love for those integrations to come from external contributors via PRs into the repo.
---
Mad Lads sales volume surged before the troll
Even before Mad Lads took to Twitter to troll, floor price for the collection rose by nearly 20 SOL in just a few days.
---
Turn up the speakers for Jakey
Jakey and friends hit the library to learn to film web3's first silent prank.
Everything goes fine until the electric dog collar malfunctions.. 🗲🗲
---
X stands for Instagram
Roster content lives on Instagram.
Nick Kapule, Jakey and Tyler Larronde are regularly featured on the Mad Lads Instagram.
They also post daily stories that do not make it to Twitter.
---
"The sheer amount of user generated content is through the roof"
Tristan Yver is referencing the content housed in the Mad Memes museum.
Community artwork has been a hallmark trait of the Mad Lads community since the first bits of artwork were released.
Thousands of custom digital designs, memes, videos and IRL pieces have been generated and the best are housed on the Mad Lads website.
---
LAD OF THE WEEK: Mad Luka
Mad Luka is the LOTW!
He has racked up 16 entries in the Mad Meme museum and dropped even more on the timeline.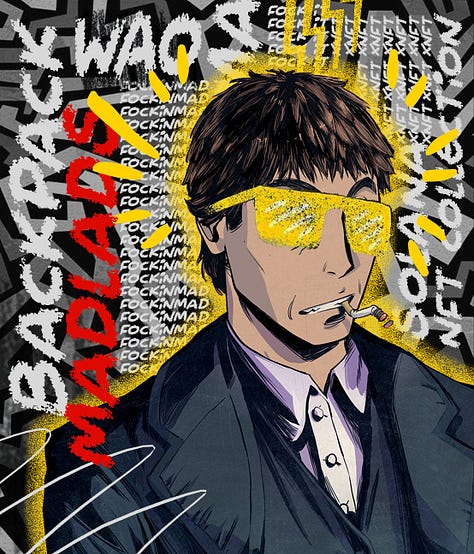 He recently won second place in the Alberts MAD MISSION creator contest with his "The Algorithm" entry.
Make sure to follow Mad Luka and engage with his Mad Lads content.
---
This hand made art is on a whole 'notha level
Swasti is a name that avid Mad News readers have seen before and her hand painted Mad Lads have been featured in multiple issues.
---
Akoma xNFT available for download
Akoma is a comic launchpad and services platform that helps creators promote their work and they announced their xNFT release using the FunZ comic account.
Download Akoma from the xNFT Library.
---
Welcome to the world of V1.16
Solana released the V1.16 validator update last week and immediately received praise for improvements in speed and security.
Solana 1.16 is here it's INCREDIBLY FAST

-Chis
Developers across the ecosystem made the upgrade and confirmed that they experienced the same results.
---
Solana validators receive clean bill of health
The Nakamoto Coefficient helps determine the minimum number of validators or nodes that would need to agree to disrupt a blockchain.
Solana remains one of the largest proof-of-stake networks by node count, one of the most distributed by Nakamoto Coefficient, and now, one of the most resilient by validator clients.
The larger the Nakamoto Coefficient, the more decentralized the blockchain is.
---
"Solana has improved resiliency, reliability and security"
Step Finance released the quarterly Solana deep dive report that looks at the performance of the chain from every angle.
---
More money has flowed into SOL than out of SOL
CoinShares also released a year-to-date look at "Digital Asset Fund Flows"
Solana continues to shine, with inflows of US$5m, marking its 27th week of inflows and just 4 weeks of outflows this year, highlighting is as the most loved altcoin this year.

Ethereum saw outflows for a 7th consecutive week, totaling US$1.5m, marking it as the least loved altcoin.
---
What is RetroPGF and how does it relate to public good funding?
OpenBlock Labs has aligned with the Solana Foundation to create a public goods fund to support projects building within Solana.
Retroactive Public Goods Funding (RPGF) is a novel funding mechanism designed to sustainably support projects that have already delivered a significant public good to the Solana ecosystem.
Total Funding: $250,000 worth in SOL token

Timeline: Now - Oct 30, 2023
---
Solana Superteams are on a mission to take over the world
There are 13+ groups of people spread across the globe are inspiring builders in the their native lands, these groups are called Superteams.
India | Germany | Turkey | Vietnam
Mexico | UK | UAE | Nigeria | Italy
Israel | Malaysia | Thailand | Korea
Superteam UAE kicks off October with panels and afterparty.
Sierra Leone plays host to the newest Superteam popup.
---
The monthly Solana Ecosystem calls have turned into a full blown party
Solana Ecosystem calls are like going to the circus - you never know excatly what is going to happen but you know it will be memorable.
Kash Danda leads the live broadcasts which are attended by thousands of Solana maxis (and a few fudders).
If you don't have time to watch the entire thing, check out this two minute rundown covering the most exciting things to happen in Solana.
---
Build Station Berlin invaded by fluffy friends
The Hyperdrive Hackathon has inspired more builders than ever before to participate in at the chance for 1+ million dollars in prizes.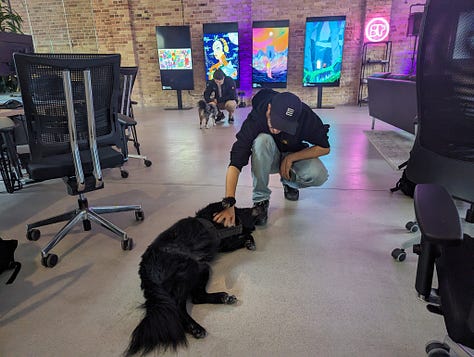 Superteam Germany has helped host the latest Build Station Berlin, an IRL workspace where devs can collaborate on their Hyperdrive entries.
---
Matty Tay takes to Reddit for a Hyperdrive AMA
If you are a Hyperdrive builder looking to make their presenation pop than check out this Reddit AMA with Matty Tay, Head of Growth at the Solana Foundation.
---
Star Atlas is free to develop for Solana builders
Star Atlas is a decentralized gaming platform built on the Solana blockchain.
Builders can use open-platform Star Atlas developer tools to securely build a live economy, linked to real life, a unique possibility in the blockchain industry.

The toolset also makes it possible to play the whole game via an Application Programming Interface (API), enabling anyone to build their own entire front end and functionality for the game.
---
Podcast Corner!
---
The Grove Street
Grove St a.k.a The Mad King hosts the mobile genius Peter Piekarczyk to talk about his journey from early education to building for Backpack.
---
Lightspeed
The Lightspeed podcast from Helius hits us with a double punch this week.
Arianna Simpson, Riyaz Faizullabhoy and Nass Eddequiouaq join us to discuss how crypto needs to shift its focus back to the user experience. We cover crypto's friction points, the application vs infrastructure phase, how Bastion can enable simple onboarding and a Web2-like user experience, crypto's misplaced defaults, over-indexing on decentralization and more!
Kain Warwick, the founder of Synthetix and Infinex, joins us to discuss how permissionless frontends are crypto's next battleground. Crypto has the infrastructure to support the next wave of users, but the user experience is lightyears behind Web2.
---
VALIDATED
VALIDATED is a Solana focused show hosted by Austin Federa.
Private credit in emerging markets like Latin America generally lacks modern infrastructure. According to Thomas Bohner (Credix), blockchain is the perfect technology to bring these markets into the future.
---
Logan Jastremski Podcast
Nassim Eddequiouaq and Riyaz Faizullabhoy are on the interview grind as they join Logan for their second podcast of the week.
---
Follow us on all platforms!
---
Table of Contents
Mad Lads/Backpack
Solana