Mad News #16: Bags Are Packed For October
A look at new 1/1 Mad Lads artwork, unveiling the DRiP channel, the Mad Artists heading to Breakpoint, how to win the Hyperdrive Hackathon and our new Podcast Corner.
In this week's Mad News:
View the full Table of Contents here.
Subscribe today and stay up to date on everything in the Mad Lads and Backpack ecosystem.
---
New 1/1 Mad Lad artwork released
This Davey Jones a la Pirates of the Caribbean design had X convinced that the team was collaborating with Reavers, a fellow Solana NFT project.
The real question is: what are all of these 1/1 NFTs going to be used for?
There are 33 unminted 1/1's
---
DRiP teaser makes the Lads go Mad
Backpack tagged DRiP in a cryptic teaser video.
DRiP is a platform that airdrops 250k+ NFTs to subscribers on a weekly basis. Dozens of your favorite web3 artists use DRiP to distribute their work to fans.
They are one of the most notable projects working with compressed NFTs and can airdrop 1M of them for just $110.
Jakey, the Mad Lads inaugural Roster member, is a DRiP artist and releases his viral videos to subscribers every week.
Notable Mad Lads stan Degen Poet has one of the most popular channels on the platform and has featured Mad Lads (and Lassies) in his work.
DRiP confirmed there was a Backpack channel a few days later.
Subscribe to the Backpack DRiP channel here!
---
Mad Lads know how to party
Token2049 was a whirlwind for Tristan Yver as he moderated a speakers panel and played host to the Mad Lads Block Party.
Dozens of holders and fans attended the event which was held at Metacamp's headquarters.
---
Work hard, party harder
Party hard, work harder
Mad Lads party hard but they work even harder. Tristan was right back to the Saturday grind along with the other weekend warriors.
You might be wondering: where is Armani Ferrante in this photo?
He is hiding in plain site!
A haircut sure can change the way we see (or don't see) someone.
"Armani Rizzante"
---
LAD OF THE WEEK: Caius Lai
Last week we talked about a common trait that all LOTW's have: they are creators that consistently rep the Mad Lads brand.
Caius Lai is no exception to that trend and routinely blesses our timeline with Mad Lads artwork and memes.
Caius is a designer, thread writer and Mad Lads community supporter.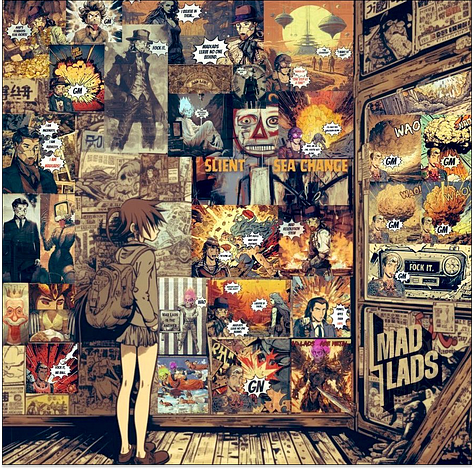 His threads focused on creators, web3 tech and crypto news have racked up millions of views.
Follow Caius on Twitter and drop a comment to congratulate him on being our LAD OF THE WEEK!
---
Seven Mad Artists are heading to Amsterdam
The Mad Lads held a creative competition with the end goal of sending holders to Breakpoint. High quality submissions reigned supreme and in the end seven winners were chosen.
View the all of the winning submissions here.
The first five Breakpoint tickets will be won by Amsterdam x Mad Lads art submissions.

Each ticket is valued at $1,000.
Winners:
---
xNFT builders are heading to Breakpoint as well
The team also rewarded xNFT builders with Breakpoint tickets
Have you built an xNFT? Are you currently building an xNFT? Reply with what you've built or what you're building. We'll select 3 people to win a Breakpoint ticket.
Fetch. was the first xNFT selected. Built by the Doge Capital team, Fetch. is a dashboard for loan management and portfolio optimization.
Second up was a familiar face in the form of DeFi Land. We covered their new xNFT game "Alpaca Run" a few weeks ago. Additionally they were one of the first projects to adopt xNFT technology.
With DeFi Land xNFT, you can easily access the majority of the features such as upgrading of your NFTs, in-game transactions, adventures and more.
Flash.Trade secured the final Breakpoint ticket with a tool that shows exactly how bad you fumbled a bag.
The xNFT is called NFT Rekt and you can download it in the xNFT Library.
---
Superteam Germany adds another layer to the H Y P E R D R I V E Hackathon
Superteams are an integral part of the Solana experience. They are regionalized groups of builders that focus on uplifting their local communities with meetups, panels, hackathons and more.
This is your opportunity to be a part of shaping the future of Solana, and get support you need to build for the

Hyperdrive Hackathon

.
xNFT builders are being offered an additional prize outside of the Hyperdrive pool - a Mad Lad NFT.
More than 400 builders have joined the Hyperdrive Hackathon since we last reported in Mad News #15.
---
"This is your sign to start building for the Solana global hackathon"
Kash Dhanda seems to pop up in every issue of Mad News lately.
Today he gives you the tools needed to excel in the Hyperdrive Hackathon.
---
The Amsterdam meetup will be held on November 1st
In a recent poll more than three hundred holders indicated that they were attending Breakpoint however there are only two hundred spots available for the Mad Lads meetup.
Make sure to RSVP before the spots are all taken.
---
Mad Merch claims may be over but sightings are just beginning
The first generation Mad Merch has been popping up all over social media.
---
The Mad Lads Bengaluru meetup went off without a hitch
It wouldn't be a Hacker House without "Fock It." shirts
---
Hacker House Bengaluru sees hundreds in attendance
Solana Hacker Houses have helped cement the blockchain as an accessible place to build products and recruit web3 builders.
Day 1 was filled with learning about how to get started on Solana, tips for the Hyperdrive Hackathon, and an inspiring, packed keynote from Balaji.
Balaji is a driving force behind The Network State, a concept focused on using technology to influence cities and countries.
---
Superteam World Tour encompasses the globe
The Superteam… team embarked on a world tour earlier this month. Since then there have been meetups almost every single day.
Check here to see if a meetup is occurring in your city.
Events have been held in:
The Netherlands | Portugal | Switzerland
Ireland | Serbia | Pakistan
Sierra Leone | Philippines | Kenya
Columbia | Argentina | Spain
Japan | Indonesia | Singapore
Italy | Canada | Venezuela
Lithuania | Australia | South Korea
---
#SolanaSpainTour covers every corner of the country
Just when you think you have your thumb on Solana events another one challenges the status quo. Solana is traveling to Madrid, Malaga, Alicante and Barcelona to provide intimate meetups for developers in Spain.
---
IRL art activations are also popping up all over the world
Solana has sponsored art activations in NYC, Nigeria, Argentina, Columbia and Arizona.
The program called JT Liss's Art Ambassadorship organizes stand alone events which elevate artists who live in both the trad and web3 art worlds.
Some things are only possible on Solana because of the people.

-Solana Foundation
https://twitter.com/Brickastly/status/1703963954060591390
A goal of the Art Ambassadorship program is to introduce traditional artists and art enjoyers to the world of Solana via familiar platforms. In this case that meant holding a gallery event inside of a Starbucks (they also held the event online with 3.land).
You can't hit em with seed phases and self custody right off the bat. But you can connect on a more meaningful level if you have irl human conversations about art.

-Brick Astly
We covered the recent NYC and Nigeria events in Mad News #13
---
freeCodeCamp launches new Solana developer courses
freeCodeCamp released a "Solana Curriculum: Smart Contracts, dApps and Command Line Tools" in collaboration with the The Solana Foundation.
The Solana curriculum contains ten interactive practice projects that will guide you through learning the Solana protocol and their tools.

Through these projects, you will learn how to build and deploy smart contracts, dApps, work with their command line tools, and much more.
freeCodeCamp is a "proven path to your first software developer job". They are dedicated to providing high quality education at no cost to the student.
---
Podcast Corner
Podcasts have infiltrated web3 culture, they are some of the most bountiful sources of alpha and perspective from your favorite builders.
Validated
In this episode, Jayant Krishnamurthy (Duoro Labs) explains how Pyth is addressing these challenges and redefining how a blockchain oracle can work. Originally built on Solana's L1, Pyth is a low-latency, high-frequency oracle that has expanded beyond the Solana ecosystem and now provides data feeds for over 30 blockchains.
Logan Jastremsky Podcast
Neel Slami joins Logan to talk about everything Eclipse.
Lightspeed
Logan also hosts the Lightspeed podcast with 0xMert, this week's guest is Ryan Wyatt.
In this episode, Ryan explains why crypto gaming is here to stay. We discuss Ryan's time at YouTube and path to Web3, the value of Web2 business development, what crypto unlocks for gaming, the consolidation of crypto's infrastructure layers and more!
The Y-Axis Pod
Tristan Yver has a strong podcast background with hundreds of episodes in the can. He recently lauched the Y-Axis Pod that covers builders across the blockchain ecosystem.
In this episode Tristan opens up the floor for Keone to share about Monad, the blockchain his team has been diligently building. Deployment is projected for mid 2024. Keone goes in depth on the mechanics of how Monad will make the EVM (Ethereum Virtual Machine) more efficient by explaining the four prong system of Pipelining.
Blocmates Podcast
Dan Albert, Executive Director of The Solana Foundation, joined blocmates to talk about the recent Visa integration, Firedancer, Shopify x Solana Pay and Helium's mobile network project.
---
"Every man is the architect
of
his own
fortune"
We have seen Solana co-founder Anatoly Yakovenko hit the interview trail hard this year. Recently he has ventured out as an editorialist and appeared on some of the biggest stages possible.
Toly explored the status of crypto regulation in the United States and the upcoming House of Representatives vote on two digital asset bills in this Fortune commentary piece.
There are hundreds of ways that the U.S. government can encourage this new wave of the internet and support brilliant blockchain entrepreneurs.

I welcome an open conversation with policymakers about web3, its potential, and yes, its pitfalls. Let's keep builders building in America.
---
Table of Contents
Mad Lads & Backpack
Solana
---
Follow us on all platforms!